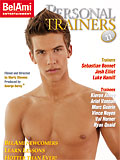 It's been said that training makes perfect. After watching Bel Ami's eleventh and newest edition to the Personal Trainers series, that statement rings truer than ever before, especially as Sebastian Bonnet temporarily, and very enthusiastically, comes out of semi-retirement to train some raw candidates. Josh Elliot and Luke Hamill, his fellow trainers in "Personal Trainers 11", were once young novices themselves, gaining their expertise from the maestro in "Personal Trainers 4" and "A+" respectively. Carried down from generation to generation this "perfect" training has made Bel Ami models the crème de la crème of porn entertainment.
Even maestros, though, have to do some of the heavy lifting as Sebastian goes about getting the set ready for the "little blond sapling" with the "cute face" and "fantastic ass." "I had to fight to get to train this whippersnapper," Sebastian states matter-of-factly. And just who is this fantastically cute whippersnapper? Why it's twenty year old Vince Noyes, who, from the very moment he enters the room, has Sebastian all over him.
Even Marty's dog, Bielko, sniffs out this blond-headed newcomer, being the "social dog" that he is. But once Bielko is directed to his "spot" for the duration of the episode, Sebastian is disrobing Vince faster than a hummingbird darting between nectar-filled flowers. By the way, while Sebastian is sucking on Vince's sweet nectar, look in the mirror for a very illuminating view of Sebastian fingering his own rosebud.
Vince has the look of wariness on his face throughout this unbelievable turn of events, looking at both Sebastian and the camera, wondering what the heck is happening. Sebastian, on the other hand, is completely turned on by this skinny, longhaired newbie. He can't keep from playing with Vince's rear-end, always spreading the cheeks to check out the freshly blooming rosebud within. After a few licks between the cheeks and some finger jabs to boot, Sebastian goes full-throttle up Vince's bubble chute. By the time he places Vince in the next position of riding his pecker, Vince unexpectedly shoots a wad.
Naive Vince has discovered something about himself he didn't know before, that anal penetration can cause ejaculatory reactions. Vince's cock is still throbbing as he stands talking with Sebastian and Marty about this unexpected surprise. By the end, even Sebastian marvels at his own good luck as he shoots a powerful load, all due to Vince's "fantastic [tight] ass."
Luke, the sexually hungry and greedy little devil that he is, trains two right-out-of-the-wrapper nineteen-year olds by the name of Ariel Vanean and Marc Guerin. Luke makes any scene entertaining due to his good-natured personality, but when he's paired with Sebastian … well, the set can quickly become a riot.
Though Sebastian is the second cameraman it doesn't stop him from horsing around with one of the two huge dildos Luke has scurried up from Bel Ami's toy locker. As Sebastian dangles one from out of his unbuttoned fly, Luke, Ariel and Marc try out their sucking techniques on the other.
There's plenty of playfulness and grab-assing before Luke brings the eager teens together for some serious sexual intercourse.
The sweet, dark-haired Ariel is the passive of the bunch as he gets boinked by both Luke and Marc. It's Marc, though, who surprises us with his versatility. With all three lined up on the couch, with right legs in the air, the longhaired Marc is snuggly sandwiched between the others as they writhe in unison to the rhythm of their libidinal beat. It's Ariel who surprises us next. As Luke beats his meat, Ariel is rimming his rosebud. But when Luke spurts his manly glory, Ariel is right there licking Luke's rod as goo oozes down the sides. But that's not all. It's Marc's turn, and while jerking his monkey rigorously, Luke's head is lying beneath Marc's undercarriage licking the back of his tightening scrotum. Ariel!? He waits with open mouth and twitching tongue to catch the white-hot testosterone as it spills out from Marc's pecker.
These two trainees should be very popular, what with Marc's versatility and Ariel's tight butt and slurping abilities.
Another nineteen year old lad, Kieron Athey, is touted as a "gifted performer" and "rugged daredevil" as he learns the ropes from Josh. Marty, ever the instigator, says, "You're on the bottom today, Josh?" "I don't know yet. That'll become clear with time," responds Josh with his trademark grin.
"Wrestling for fuck rights," teases Marty. "Let the stronger man win," Josh shoots back as he turns to Kieron and warns, "I don't want to use my Kung Fu, but I may have no other choice." One can't help but lap up this delicious dialogue, knowing as we do Josh will prevail over the passive Kieron. Even Marty is excited over this greenhorn when he exclaims, "Look at that narrow waist" and "beautiful round ass."
Once again Sebastian, the second cameraman, can't help himself as he intrudes upon the festivities, cheekily squirting moisturizer all over Kieron's well-tanned body in a most provocative manner. And it doesn't stop there. Sebastian not only pushes his camera up between Josh's spread open cheeks, but also gets into the action by dry-humping Josh to—supposedly—help speed up the action between the two performers.
It must be really difficult for Sebastian to be semi-retired and work at Bel Ami. After Bielko says his hellos and retreats to his "spot" upon hearing his master's voice, the action heats up as Josh puts Kieron through his paces of sucking in several different positions in quick order.
Then its boink, boink, boink as Josh pumps away—in every which way but Monday—between Kieron's salon-tanned buttocks. In fact, Kieron takes it all in stride as Josh wears himself out with all the exertion. Oh no, not our Josh! It ends with looks of total satisfaction by all. Kieron definitely acquitted himself as a star quality model. Ah, but could he have outlasted Sebastian?
After some chitchat and cuddling on the sofa, what do four horny young bucks usually get up to when left to their own devices, especially when Luke and Sebastian are around? Yep, that's right, testosterone-fueled libidos quickly override decorum as the aforementioned duo and their young charges, Val Horner and Ryan Quaid, get enmeshed in a good ol' rasslin' match where clothes go flying about the room as though they had dived into a mosh pit of frenzied sex-starved females at an N' Sync rock concert. Even Bielko gets excited over this rambunctious gaggle of naked humans as he darts about wanting desperately to join in with these boisterous lads.
Fun quickly turns to horror, though, when Ryan's pubic bush is pronounced to be a "forest" by Luke. By even today's standards it looks quite nice, but no, it has to be shaved, thus becoming a ghost of its former self. Sigh! Sniff! Sniff! As Luke goes about the horrendous deed of butchering a respectable looking bush, Sebastian and Val are talking about football (soccer) in the other room with Val standing about sporting a raging hard-on, pointing to the heavens in all its masculine glory. Hmm, football must be a very erotic subject for this lanky, twenty year old.
Once Ryan is considered presentable [sic], Sebastian and Luke quickly put the trainees through some intensive sexual maneuvers. The trainers are very energetic in their duties like a pair of cats who have fallen into a basketful of freshly cut catnip. One thing becomes very obvious as these veterans implement their lesson plans: they can't seem to keep their hands off of each other, thus leaving their novices to learn on their own for short periods of time. That's right, Luke and Sebastian are seen many times fondling, kissing, rimming and sucking each other with such enthusiasm as to give rise to salacious thoughts concerning their private lives. (Luke looks far too excited and contented with his face buried deep between the sumptuous buns of Sebastian's derrière. But, then again, who could blame him?) But with Marty's firm hand they give Ryan and Val their money's worth with cum squirting in all directions and their libidos quite sated.
With Sebastian, either in front or behind the camera, along with Josh and Luke giving their all, rest assured the training these six inexperienced boys received will definitely make them perfect performers for future feature films. Being nineteen and twenty year olds, they have plenty of time to grow into strapping young men along with enjoying all the pleasures of boinking each other's brains out as well.
"Personal Trainers 11" will join the previous editions as an example of how things have changed over the years and how the basics have never changed. Knowing Sebastian, Josh and Luke they've no doubt already set their sights on another fresh match of horny young lads who'll lose their sexual innocence right before our very eyes in the next edition of this groundbreaking series of videos.